This post takes over where my last one ended.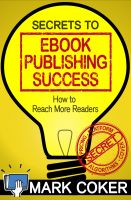 3. Utilize the Power of Free
This is counter intuitive to many authors. I've heard many say, "I worked hard on this book! There's no way I'm gonna devalue it by giving it away!"
But done right, giving books away can be one of your most effective ways of selling more books. As Coker state from his vast experience with ebooks at Smashwords:
Free is one of the most misunderstood and underutilized book marketing tactics. It's one of the best-kept secrets for the best-selling authors at Smashwords.
So how are successful authors using the power of free?
Give away the first book in a series to hook people on your writing and characters.
Give away one of your books to acquaint them with you as an author. Of course, the bigger your backlist (books published in the past), the more you have the potential to sell.
Offer a book free for a limited time, just to get word of mouth started.
I like to set up a discount code in Smashwords so that I can offer my book free of charge for a limited time to members of niche forums. Example: I've offered some of my books that target authors to members of writing/publishing forums, free of charge, so that they can give me reviews. From my experience, a very small percentage of readers review books, so it helps to give some away, asking them that in return, if they like it, would they write a review.
Free can be powerful for several reasons.
1. You get your book into many hands. If they read it and like it, word of mouth may take off, which is your ultimate goal. John Kremer used to recommend sending out 400 or so books for review. I believe the publishers of The Da Vinci Code gave away 5,000 or so paper copies. Hey, if you have a book that a million or more people might like to read, why hesitate to give away thousands of copies, particularly now when it costs you nothing to give away ebooks.
2. When you sell lots of books in a short length of time, the algorithms of Amazon and other retailers start kicking in to recommend your books to others. Your book will start coming up when people browse related books, saying "People who bought this book also bought this one." They recommend your book because so many people have been downloading it.
Have you experimented with offering free books? How has it worked or not worked for you?
With Mark Coker's vast experience with ebooks at Smashwords and his background and interest in marketing, I'm eager to listen to his advice on producing and distributing ebooks. In this and a couple of follow-up posts, I'll discuss my main takeaways from his hot-off-the-press ebook: Secrets to Ebook Publishing Success: How to Reach More Readers.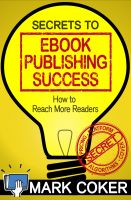 I'd recommend downloading it yourself, especially since it's free! In it, he gives advice based on the best successes he's seen with ebooks published through Smashwords. I'm all about learning from successful authors, so here's what I want to remember. If you have experience or thoughts concerning this advice, let's discuss it below.
1 – Write a great book.
Coker keeps coming back to this point, and rightly so, since the goal of marketing is to get my books into readers' hands so that word of mouth will hopefully start an unstoppable chain of recommendations. But if your novel is neither endearing nor riveting; if your nonfiction offers nothing new or is less than compelling, no amount of marketing can save you. "Be fanatical about quality," says Coker. Amen and Amen.
But can you really know, prior to publication, that your book's good enough? Although I do solid research and self-edit relentlessly, I don't trust my own judgment about my manuscripts. I get them into lots of readers' hands (typical readers in my target group) to get their candid feedback before publication. Typically, as a result of their input, I make significant changes, which saves me from the embarrassment of having my weaknesses paraded before the world on Amazon reviews after publication.
2. Write Another Book
I've heard perennial best-seller James Patterson say that his best marketing was to write his next book. I thought this would work for someone who's already a bestseller, but questioned that advice for the low profile author who's yet to hit it big.
But especially in the new world of publishing, writing more books gives distinct advantages to all writers.
First, you begin to establish a brand. Many people look for other books by authors they love.
Second, each book allows you free advertising space for your other books. In an ebook, the referral can hyperlink them to other books so that readers can purchase the next book immediately.
Third, you can take full advantage of the marketing power of free, by, for example, giving away the first book in a series to hook readers who may pay for the rest of the series. (More about "free" later.)
According to Coker, "series writers are among the most successful."
But don't artificially break up your novel into several chunks to make it into a series, unless each resulting book is complete in itself.  Ebooks that sell best are 70,000 words or more. The top 20 bestsellers on Smashwords are over 80,000 words.
I'll continue this discussion over the next week or so, but do these recommendations ring true with your thoughts and experiences? Why or why not?